This page is a resource for Managers of Corpus Christi City employees that require a CDL in order to perform their job function.  The following steps are required to secure training for your employees:
1)  Ensure that your employee meets these minimum standards
Must have a valid TX drivers license
Must be at least 18 years of age
Must not have more than three moving violations on driving record in past three years
Must be able to pass a Department of Transportation physical and drug screen.
Any unpaid tickets must be cleared to upgrade license
2)  Have prospective employees fill out the Corpus Christi Training Agreement and Contract for the CDL Training Program
1) Ensure employee initials each of the seven paragraphs.
2) Manager must complete the Manager Information (to include an email and phone number) and must include the Billing Code(s).
3) Employee must complete the Employee Information section, sign, and date.
3)  Contact Del Mar College to determine the next available class and to register your personnel for training
4)  Manager will send the Training Agreement & Contract to the Corpus Christi Human Resources Organizational Development Division (HR-ODD): learninginstitute@cctexas.com
HR-ODD does not need the DOT Medical Card.  DO NOT send the DOT Medical Card to HR-ODD
In the body of the email, include the expected class start date
5)  It is the Manager's responsibility to ensure their employees arrive to training prepared for class, and ensure the employees are present for training each day (employees will receive pay while in the training) 
Students must bring the following items with them on the first day:

Valid Texas driver's license
DOT medical card
Paper and pen (to take notes)
Check or money order made out to Texas DPS in the amount of $25 for the permit testing fee
Face coverings are recommended but not required

In addition, in order to obtain their permit, students must have access to:

Social Security Card (DPS does NOT accept laminated Social Security cards)
Certified copy (with a seal) of student's Birth Certificate
Two (2) proofs of residency (use this link for determining acceptable proof of residency): https://www.dps.texas.gov/internetforms/Forms/DL-57.pdf

DPS realizes everyone's situation is different and may accept other proof of residency.  This will be covered on the first da of class.

Students will report to the Del Mar College West Campus, Workforce Development Center, room 148, no later than 7:30 am the first day of training (see map below)
Del Mar College Workforce Development Center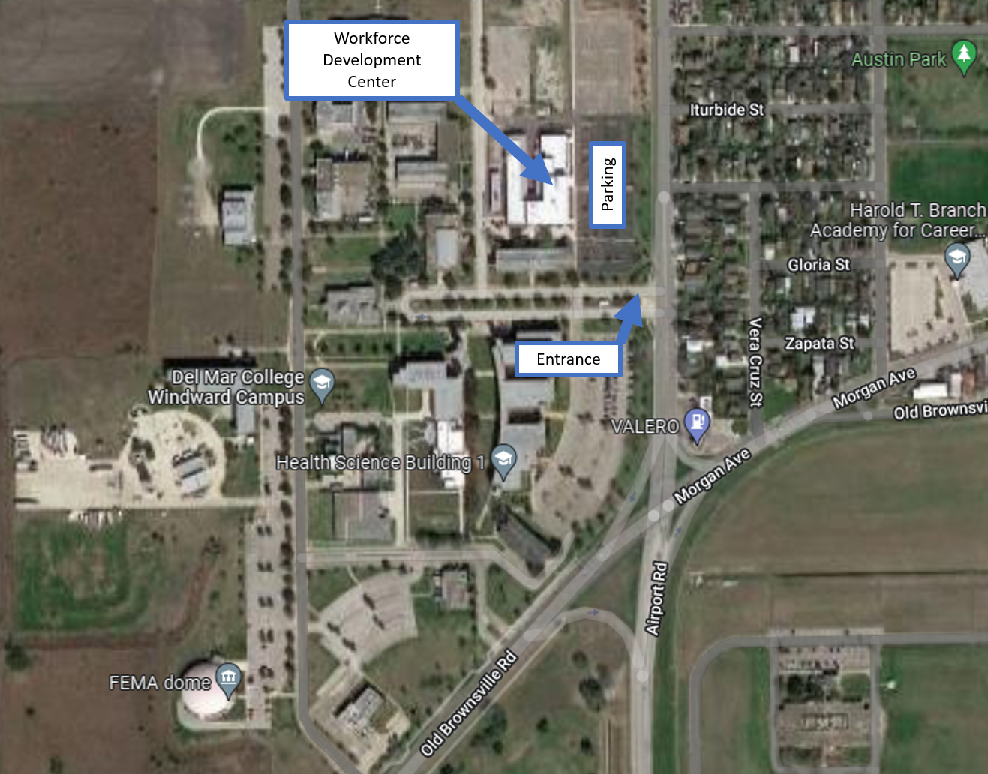 The Organizational Development Division of the Corpus Christi Human Resources Department will receive the Training Agreement & Contract from the Manager, and the Invoice from Del Mar College for student attendance, and will forward to Accounts Payable through the HR Director for payment to Del Mar College.