Wednesday, March 2nd, 2022
The Organizational Development Division of the City's Human Resources Department, instructed 15 of Corpus Christi's City Champions in a day of training on March 2nd, to improve their personal resilience.  The training,  Personal Mastery: Leadership of Self is designed to help employees recognize personal growth opportunities, overcome challenges in life, as well as help those around them enhance their own positive coping strategies. This session covered problem solving, effective communication, balanced thinking, stress management, decision making, and other concepts aimed at improving the participant's resilience and overall performance.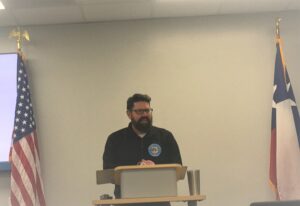 Instructor (Organizational Development Division Manager) Scott Greene led the class through ten discussion topics over the eight hour course:
Finding the Good Stuff
ABC's (How an activating event drives our thinking toward reactions and consequences)
Check Your Playbook (Awareness of what influences unproductive patterns that interfere with performance, goals, and relationships)
Balance Your Thinking (Accurately perceiving situations)
Goals and Values
Learn Your Lenses (exploring the world of temperaments)
Mindfulness and Acceptance (Acknowledging negative thinking in order to disengage from them)
Energy Management (How mental and physical fitness improves performance)
Interpersonal Problem Solving
Active Constructive Responding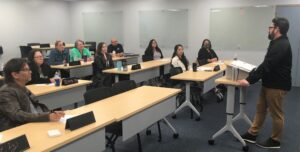 Reaction to this initial offering of the class was overwhelmingly positive.  One student commented that, "…[the topics] were all very relatable, interesting and can be used in and out of the workplace.  This class will help me learn how to reflect more on my words and actions to make me an overall better person!"   Several students asked for the class to be longer in order to go more in-depth and have more open discussion.
This is definitely a class the Organizational Development Division will look to place on the calendar in the future.
To take part in professional development classes such as this, please see our list of upcoming classroom training on the LearningCC.org site, and on EventBrite.